Cindia Norton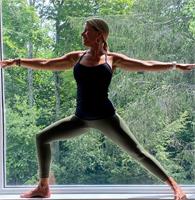 Cindia Norton instructs the following:
SPA yoga is a slow flow class which is done on the floor. In restorative poses, the energy flow through the body's senses is stimulated creating deeper inner awareness and leaving the practitioner with a "blissed out" feeling.
Set in a calming candlelit room filled with delightful scents and beautiful music in the back ground, students will be offered assists for ultimate comfort in poses, gentle touch and massage, at your discretion. We will end with a relaxing 15 minute guided meditation.
Be prepared to feel like you just walked out of a spa!
This class is appropriate for students from beginners to advanced.




Yes...Goat Yoga is a thing... and we couldn't be more excited. Studio143 has hosted kitten and puppy Yoga... now baby goats with Flo B Farm.
Join us for an experience of a life time..
there will be time after the class for cuddles and pictures. There will also be goats milk soap included in the price. Yoga will be an all levels flow and will be taught by Cindia Norton.




Pilates fusion is a combination of Pilates mat work, yoga and Barre.




These classes link postures to balance the body and clear the energy channels in order to fully experience the energetic effects of the practice. Inhalations are linked to moves expanding the front of the body, creating lightness. Exhalations are linked to movements that engage the abdomen and create stability. The breath used in Flow/Vinyasa, ujjayi pranayama or whisper breath, creates a vibration across the soft palate of the mouth, warming the breath as it enters the body.