Pilates Fusion
This class is taught by: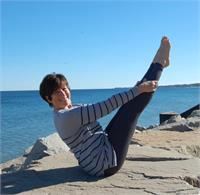 A lifelong fitness fan of every craze from aerobics to Zumba, I returned to Pilates in 2013 as a way to regain strength after a two-year battle with breast cancer. I found that for me, Pilates was the best way to develop core strength and increase muscle tone and flexibility without injury. This experience inspired me to become a certified Pilates teacher so that I could share my positive experience with others, and inspire them to never give up on a strong, healthy body.
I am a PMA certified Pilates teacher, having completed a 500 hour comprehensive Pilates Mat and Apparatus training program with Balancepoint Pilates. I also received my Barre certification through Balancepoint Pilates. I am certified to work with breast cancer survivors through the Pilates-inspired Pink Ribbon Program. A trained Reach to Recovery volunteer with the American Cancer Society, I have counseled many women through the difficult journey of breast cancer treatment.
Pilates fusion is a combination of Pilates mat work, yoga and Barre.
Upcoming classes: