Pilates Sculpt
This class is taught by: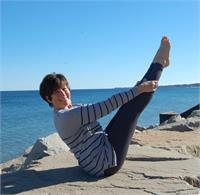 A lifelong fitness fan of every craze from aerobics to Zumba, I returned to Pilates in 2013 as a way to regain strength after a two-year battle with breast cancer. I found that for me, Pilates was the best way to develop core strength and increase muscle tone and flexibility without injury. This experience inspired me to become a certified Pilates teacher so that I could share my positive experience with others, and inspire them to never give up on a strong, healthy body.
I am a PMA certified Pilates teacher, having completed a 500 hour comprehensive Pilates Mat and Apparatus training program with Balancepoint Pilates. I also received my Barre certification through Balancepoint Pilates. I am certified to work with breast cancer survivors through the Pilates-inspired Pink Ribbon Program. A trained Reach to Recovery volunteer with the American Cancer Society, I have counseled many women through the difficult journey of breast cancer treatment.
Do you want to add variety to your workout routine? Let's have some fun with Pilates as we explore various props such as weights, balls, circles and even a little bit of Barre to sculpt your arms, legs and glutes while strengthening your core to give you that long, lean Pilates look. This class is for all levels, and no experience is necessary.
Upcoming classes:
Sign Up

Thu

Oct 26 4:00 pm - 5:00 pm

with

Jane

McGovern




Sign Up

Thu

Nov 02 4:00 pm - 5:00 pm

with

Jane

McGovern




Sign Up

Thu

Nov 09 4:00 pm - 5:00 pm

with

Jane

McGovern




Sign Up

Thu

Nov 16 4:00 pm - 5:00 pm

with

Jane

McGovern




Sign Up

Thu

Nov 23 4:00 pm - 5:00 pm

with

Jane

McGovern




Sign Up

Thu

Nov 30 4:00 pm - 5:00 pm

with

Jane

McGovern




Sign Up

Thu

Dec 07 4:00 pm - 5:00 pm

with

Jane

McGovern




Sign Up

Thu

Dec 14 4:00 pm - 5:00 pm

with

Jane

McGovern




Thu

Dec 21 4:00 pm - 5:00 pm

with

Jane

McGovern




Thu

Dec 28 4:00 pm - 5:00 pm

with

Jane

McGovern




Thu

Jan 04 4:00 pm - 5:00 pm

with

Jane

McGovern




Thu

Jan 11 4:00 pm - 5:00 pm

with

Jane

McGovern




Thu

Jan 18 4:00 pm - 5:00 pm

with

Jane

McGovern




Thu

Jan 25 4:00 pm - 5:00 pm

with

Jane

McGovern




Thu

Feb 01 4:00 pm - 5:00 pm

with

Jane

McGovern




Thu

Feb 08 4:00 pm - 5:00 pm

with

Jane

McGovern




Thu

Feb 15 4:00 pm - 5:00 pm

with

Jane

McGovern