Heated Vinyasa Flow
This class is taught by: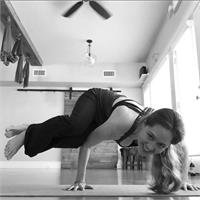 Cait Simmons loves all aspects of yoga but especially appreciates that it offers endless opportunities for learning and exploration of the mind, body, and spirit. She is 200hr certified by the National Yoga Alliance through Sacred Space Yoga School, trained in the Yoga Birth Method style of prenatal yoga, and certified as a children's yoga instructor through Open Doors and ChildLight Yoga/Yoga 4 Classrooms. Cait teaches adult, prenatal, and children's yoga classes in studios throughout the South Shore. She tries to infuse empathy, energy, and fun into her practice while always keeping a strong focus on the breath and body alignment. When she isn't on her mat, Cait enjoys cooking healthy meals, gardening, running, riding horses, and spending time with her family.
I graduated BC with a BS in Finance and worked in the corporate world for 7 years before following my true passion and making fitness my career. I've been a certified personal trainer for 21 years, a certified Pilates instructor for 14 (both mat and equipment) through BalancePoint Pilates,and a registered yoga teacher through Finding Inner Peace for 4 years. I also recently obtained a barre certification. Having been a weight lifter for most of my adult life, an injury forced me to find a gentler approach to fitness which led me to yoga. Yoga provides a balance of strength, flexibility, focus, and breath. Pilates is a fantastic core strengthener for every athlete. I love the versatility of teaching classes because I can tailor them to any level and ability. I love sharing these practices and find that I learn just as much from my students as they from me.
Upcoming classes: