Heated Vinyasa Flow Level II/III
This class is taught by: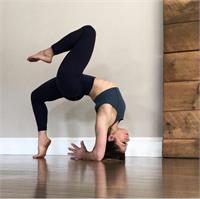 Born and raised in Rio de Janeiro, Brazil, Anna has been active her whole life. Watching spectacular sunrises and sunsets made her passionate about freedom. In 2010, she found herself trying her first yoga class and knew her life was forever changed. Yoga instantly found its way into her soul. Shortly after, she decided to take her practice a step further and take yoga teaching training. Anna graduated from the Sacred Space Yoga School and wanted to share her passion with others. Anna's practice helps her feel alive and free. She loves to play in arm balances and inversions-- so expect them in her classes! The playful part of yoga is just as important as it's discipline aspect-- the balance between the two makes yoga! The awareness is the balance of the body and the mind, and her goal is to help yogis bridge the gap between the two. Prepare to sweat, work and have fun on your mat!
These classes link postures to balance the body and clear the energy channels in order to fully experience the energetic effects of the practice. Inhalations are linked to moves expanding the front of the body, creating lightness. Exhalations are linked to movements that engage the abdomen and create stability. The breath used in Flow/Vinyasa, ujjayi pranayama or whisper breath, creates a vibration across the soft palate of the mouth, warming the breath as it enters the body.
Upcoming classes:
Sign Up

Sat

Jan 26 9:30 am - 10:45 am

with

Anna

Mara Paiva




Sign Up

Sat

Feb 02 9:30 am - 10:45 am

with

Anna

Mara Paiva




Sign Up

Sat

Feb 09 9:30 am - 10:45 am

with

Anna

Mara Paiva




Sign Up

Sat

Feb 16 9:30 am - 10:45 am

with

Anna

Mara Paiva




Sign Up

Sat

Feb 23 9:30 am - 10:45 am

with

Anna

Mara Paiva




Sign Up

Sat

Mar 02 9:30 am - 10:45 am

with

Anna

Mara Paiva




Sign Up

Sat

Mar 09 9:30 am - 10:45 am

with

Anna

Mara Paiva




Sign Up

Sat

Mar 16 9:30 am - 10:45 am

with

Anna

Mara Paiva




Sign Up

Sat

Mar 23 9:30 am - 10:45 am

with

Anna

Mara Paiva




Sat

Mar 30 9:30 am - 10:45 am

with

Anna

Mara Paiva




Sat

Apr 06 9:30 am - 10:45 am

with

Anna

Mara Paiva




Sat

Apr 13 9:30 am - 10:45 am

with

Anna

Mara Paiva




Sat

Apr 20 9:30 am - 10:45 am

with

Anna

Mara Paiva




Sat

Apr 27 9:30 am - 10:45 am

with

Anna

Mara Paiva




Sat

May 04 9:30 am - 10:45 am

with

Anna

Mara Paiva




Sat

May 11 9:30 am - 10:45 am

with

Anna

Mara Paiva




Sat

May 18 9:30 am - 10:45 am

with

Anna

Mara Paiva