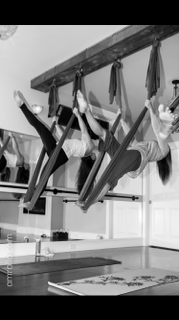 AERIAL YOGA

Aerial yoga is a combination of traditional yoga poses done on the floor, and postures practiced using a soft fabric "trapeze" (called a "sling") suspended at waist height. This is the same fabric that aerialists use in the circus, but in aerial yoga our body weight is distributed between the fabric and the floor, allowing us to access traditional yoga postures in new ways. Please do not wear jewelry. Please wear leggings or long pants that are comfortable to move in, keeping in mind that zippers or buckles can get caught in and tear silks.

Drop in: $18

Six class pass: $108

Please note: Spaces fill up fast as there are limited silks available. Signing up in advance to ensure your place is recommended.