Yin Yoga
This class is taught by:
I graduated BC with a BS in Finance and worked in the corporate world for 7 years before following my true passion and making fitness my career. I've been a certified personal trainer for 21 years, a certified Pilates instructor for 14 (both mat and equipment) through BalancePoint Pilates,and a registered yoga teacher through Finding Inner Peace for 4 years. I also recently obtained a barre certification. Having been a weight lifter for most of my adult life, an injury forced me to find a gentler approach to fitness which led me to yoga. Yoga provides a balance of strength, flexibility, focus, and breath. Pilates is a fantastic core strengthener for every athlete. I love the versatility of teaching classes because I can tailor them to any level and ability. I love sharing these practices and find that I learn just as much from my students as they from me.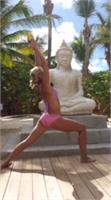 Trish began her yoga journey almost 15 years ago, but it wasn't until she became an injured marathon runner, that she witnessed firsthand the restorative nature of yoga both physically and psychologically. Amazed by the physical strength and flexibility, mental focus and renewed and joyous creative spirit that yoga created for her, she just knew she had to teach!
Trish is a 500-hour instructor in therapeutic essentials, and a Massachusetts General Hospital stress management educator. She is has numerous specialty certifications include instructing Vinyasa, breath work therapies, Yin yoga, SPA yoga, meditation and teaching mind/body stress reduction strategies.
Yoga and meditation's scientific based effects on the brain, central nervous and immune. and combining yoga with medicine is Trish's passion. She is employed at several integrative medical centers and works with patients with autoimmune illnesses and a variety of mental health conditions.
By offering a wide variety of classes ranging from vigorous Vinyasa-flow to slower-paced calming Yin, Trish is able to connect to students of any level and age. Trish's playful, heart-centered teachings, combine alignment, meditative breath, and spirit to encourage students to reconnect to self, renewal and joy!
Yin yoga is a complementary yoga practice to the more yang experiences such as power and vinyasa flow yoga, pilates, barre and other more aerobic activities. It is the approach in yin yoga that is different - poses are largely the same, but poses are held for longer periods, in relative stillness, at a point between edge and ease - with the ultimate goal of reaching deep connective tissues and ligaments of the body. Energy (chi) is also released and circulated throughout the body through this practice and a more inward looking approach is taken - ultimately preparing the mind and body for meditation.
Upcoming classes: