Slow Gentle Flow
This class is taught by: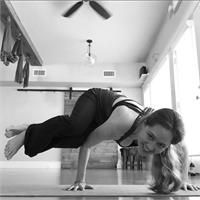 Cait Simmons loves all aspects of yoga but especially appreciates that it offers endless opportunities for learning and exploration of the mind, body, and spirit. She is 200hr certified by the National Yoga Alliance through Sacred Space Yoga School, trained in the Yoga Birth Method style of prenatal yoga, and certified as a children's yoga instructor through Open Doors and ChildLight Yoga/Yoga 4 Classrooms. Cait teaches adult, prenatal, and children's yoga classes in studios throughout the South Shore. She tries to infuse empathy, energy, and fun into her practice while always keeping a strong focus on the breath and body alignment. When she isn't on her mat, Cait enjoys cooking healthy meals, gardening, running, riding horses, and spending time with her family.
This 60 minute session begins with centering and warm ups, then moves to a soft vinyasa (flowing sequence - movement with breath). Sun salutations are included, and asanas are held slightly longer in this class. Slow Flow Yoga also involves abdominal strengthening and a standing sequence. Floor work includes hip openers, gentle backbends, and gentle inversions are explored. The Slow Flow Yoga sessions ends with a period of cooling and deep relaxation (shavasana). Modifications and props are always available to assist with flexibility.
Upcoming classes:
Mon

Nov 19 4:00 pm - 5:00 pm

with

Cait

Simmons




Sign Up

Mon

Nov 26 4:00 pm - 5:00 pm

with

Cait

Simmons




Sign Up

Mon

Dec 03 4:00 pm - 5:00 pm

with

Cait

Simmons




Sign Up

Mon

Dec 10 4:00 pm - 5:00 pm

with

Cait

Simmons




Sign Up

Mon

Dec 17 4:00 pm - 5:00 pm

with

Cait

Simmons




Sign Up

Mon

Dec 24 4:00 pm - 5:00 pm

with

Cait

Simmons




Sign Up

Mon

Dec 31 4:00 pm - 5:00 pm

with

Cait

Simmons




Sign Up

Mon

Jan 07 4:00 pm - 5:00 pm

with

Cait

Simmons




Sign Up

Mon

Jan 14 4:00 pm - 5:00 pm

with

Cait

Simmons




Mon

Jan 21 4:00 pm - 5:00 pm

with

Cait

Simmons




Mon

Jan 28 4:00 pm - 5:00 pm

with

Cait

Simmons




Mon

Feb 04 4:00 pm - 5:00 pm

with

Cait

Simmons




Mon

Feb 11 4:00 pm - 5:00 pm

with

Cait

Simmons




Mon

Feb 18 4:00 pm - 5:00 pm

with

Cait

Simmons




Mon

Feb 25 4:00 pm - 5:00 pm

with

Cait

Simmons




Mon

Mar 04 4:00 pm - 5:00 pm

with

Cait

Simmons




Mon

Mar 11 4:00 pm - 5:00 pm

with

Cait

Simmons




Mon

Mar 18 4:00 pm - 5:00 pm

with

Cait

Simmons