SPA Yoga
This class is taught by: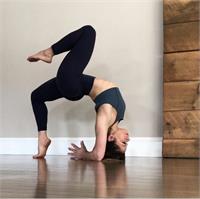 Born and raised in Rio de Janeiro, Brazil, Anna has been active her whole life. Watching spectacular sunrises and sunsets made her passionate about freedom. In 2010, she found herself trying her first yoga class and knew her life was forever changed. Yoga instantly found its way into her soul. Shortly after, she decided to take her practice a step further and take yoga teaching training. Anna graduated from the Sacred Space Yoga School and wanted to share her passion with others. Anna's practice helps her feel alive and free. She loves to play in arm balances and inversions-- so expect them in her classes! The playful part of yoga is just as important as it's discipline aspect-- the balance between the two makes yoga! The awareness is the balance of the body and the mind, and her goal is to help yogis bridge the gap between the two. Prepare to sweat, work and have fun on your mat!
SPA yoga is a slow flow class which is done on the floor. In restorative poses, the energy flow through the body's senses is stimulated creating deeper inner awareness and leaving the practitioner with a "blissed out" feeling.
Set in a calming candlelit room filled with delightful scents and beautiful music in the back ground, students will be offered assists for ultimate comfort in poses, gentle touch and massage, at your discretion. We will end with a relaxing 15 minute guided meditation.
Be prepared to feel like you just walked out of a spa!
This class is appropriate for students from beginners to advanced.
Upcoming classes:
Fri

Oct 20 6:15 pm - 7:15 pm

with

Jennifer

Murphy




Sign Up

Fri

Oct 27 6:15 pm - 7:15 pm

with

Anna

Mara Paiva




Sign Up

Fri

Nov 03 6:15 pm - 7:15 pm

with

Cindia

Norton




Sign Up

Fri

Nov 10 6:15 pm - 7:15 pm

with

Cindia

Norton




Sign Up

Fri

Nov 17 6:15 pm - 7:15 pm

with

Cindia

Norton




Sign Up

Fri

Nov 24 6:15 pm - 7:15 pm

with

Cindia

Norton




Sign Up

Fri

Dec 01 6:15 pm - 7:15 pm

with

Cindia

Norton




Sign Up

Fri

Dec 08 6:15 pm - 7:15 pm

with

Cindia

Norton




Sign Up

Fri

Dec 15 6:15 pm - 7:15 pm

with

Cindia

Norton




Fri

Dec 22 6:15 pm - 7:15 pm

with

Cindia

Norton




Fri

Dec 29 6:15 pm - 7:15 pm

with

Cindia

Norton




Fri

Jan 05 6:15 pm - 7:15 pm

with

Cindia

Norton




Fri

Jan 12 6:15 pm - 7:15 pm

with

Cindia

Norton




Fri

Jan 19 6:15 pm - 7:15 pm

with

Cindia

Norton




Fri

Jan 26 6:15 pm - 7:15 pm

with

Cindia

Norton




Fri

Feb 02 6:15 pm - 7:15 pm

with

Cindia

Norton




Fri

Feb 09 6:15 pm - 7:15 pm

with

Cindia

Norton




Fri

Feb 16 6:15 pm - 7:15 pm

with

Cindia

Norton